Marshalling Yard Procedure
ALL TYPES OF TRANSPORTATION THAT COMES TO THE MOVE IN OR MOVE OUT OF FITMA 2023 IN CENTRO CITIBANAMEX, MUST FOLLOW THESE STEPS FOR ACCESS TO THE VENUE.
1. Park in Marshalling Area:
Address: ACCESS 3 – Blvd. Pípila, Lomas de Sotelo, Hipódromo de las Américas, Miguel Hidalgo 11200
See ANNEX A
2. Register with CARGOLIVE Logistics
Arrive at the assigned day and time, at least two hours in advance. Confirm your schedule with Orlando Mendoza: Orlando@tradeshowconsult.com
Provide the Exhibitor's name or booth number.
Objective: Follow the order so the work on the floors flows smoothly.
3. When entering to the halls, you must report to the Floor Manager.
The Floor Manager will guide you to the corresponding section, to your booth.
The Floor Manager will authorize the unloading and arrangement of your display material.
A representative from the exhibiting company must be present at the time of unloading.
Once finished, he will give the green light to remove the vehicle to the venue.
The cardboard will be removed at the exit of the venue.
If you want to enter again later, you will have to perform the procedure again.
ANNEX A
ROUTE 1 – Av. Conscripto
Light vehicles, decorators (private vehicles and transport up to 3 ½ tons).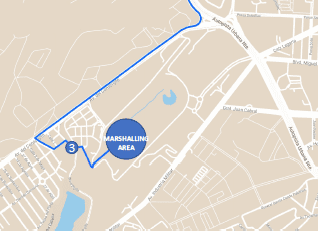 ROUTE 2 – Ave. Pipila
All transportation with machinery (heavy vehicles).