SHIPPING
Dear Exhibitor;
Rock it Global has been designated as recommended agents for Customs Brokerage & International Logistics services.
We trust your participation FITMA 2023, is a successful one. These instructions are intended to give you information on the customs process and formalities for the event.
Prior to shipping, all international freight must be pre-advised to:
Rock it Global – Trade Shows
tradeshowsmx@rockit.global
Ph. +5255 5280 1279
CARGO ARRIVAL DEADLINES
AIR FREIGHT:
Should arrive to Mexico City Intl Airport no later than: June 12th.
TRUCK FREIGHT:
Should arrive to our Laredo TX no later than: June 5th.
OCEAN FREIGHT:
Should arrive to Manzanillo/ Veracruz port no later than:
For FCL shipment June 7th.
For LCL shipment June 5th.
DOCUMENTATION
We need the following documentation, without exceptions, to process customs formalities:
Commercial Invoice and Packing List:
All invoices must contain full description of goods, including quantity, size/ weight, value of each item shipped & currency. Mexican customs will not accept the term "No Commercial Value" for any item.
AWB or BL or BOL
Consignee to:
CargoLive, S de RL de CV
Platón 409, Polanco
11560 Mexico, CDMX TAX ID: CAR091028R36
EXPO NAME/ Exhibitor Name/ Booth #
Carolina Díaz/Cesar Pelcastre
E-mail. tradeshowmx@rockit.global
Ph. +5255 5280 1279*Note: For Sea freights EXPRESS RELEASE BL is needed.
CASE MARKING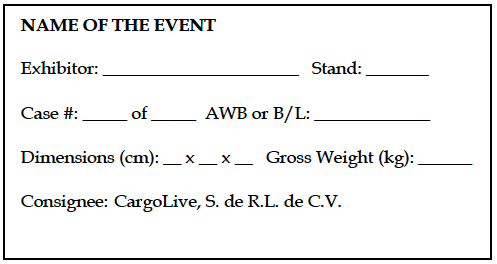 All products must to come properly packaged or packed in boxes or pallets with the appropriate protection for transportation and multiple cargo handling.
All cargo will be opened, inspected and compared to the details listed on your commercial invoice. Discrepancies will cause delays and possible additional cost and fines. Please do not ship anything that is not declared on the Commercial Invoice/ Packing List.
Wooden Packaging such as skids, crates, pallets etc. must have Certificate of Fumigation or authorize fumigation stamp on the wood.
FOOD, BEVERAGE & TEXTILES
Certain Products (foodstuffs, seeds, grains, beverage, chemicals, textiles and leather) require permits and certificates issued by an appropriate Mexican Government. Do not ship without pre- advising above products. This can delay customs clearance. CargoLive can assist in obtaining these permits but we must be advised of these products at least 2 months in advance before the product is shipped.
HAZARDOUS GOODS
Shipments containing hazardous goods require special handling and documentation. Many steamship lines, airlines and trucking companies have strict regulations which dictate that such shipments be moved separately, properly documented and packed in strict accordance with current laws and regulations. If you plan to ship hazardous materials, please notify Cargo Live prior to the delivery of the goods to our consolidation points.
SALE OF GOODS
If you want to sell any material, this can only be done if the buyer is a Mexican company or a person who has an import license.
CargoLive is jointly liable with Mexican Authorities, therefore it is mandatory to make a change of regime changing from a temporal to a permanent import and it is necessary to make the payment of duties and taxes in accordance with current rates and regulations. This service is an additional fee, which can be covered by the buyer or by the exhibitor.
We are unable to allow the buyer to take the goods without having paid the taxes, so that the goods shall be under our custody during the process of nationalization or regularization and once you get the final import we will coordinate the delivery of goods.
All expenses for this additional service have to be paid in total before the delivery of goods.
Mexican Value Added Tax (I.V.A.) of 16% will apply to all services rendered in Mexico. Items for permanent importation into Mexico will be subject to payment of Customs Duty and I.V.A.
OUTBOUND/RETURN SHIPMENTS
All materials returning to their country of origin will be subject to Mexican export clearance that can take up to 15 working days to complete. This should be taken into account when planning for the use of your material after the completion of this show. Return transit times are affected by mode of transport, customs status, security and congestion at the border.
REGULATIONS/RESTRICTIONS
Items for temporary importation into Mexico (any item which will be re-exported from Mexico at the end of the show) must be packed and invoiced separately from those items that will remain in Mexico (sold, distributed or given away).
Descriptions for all items being sent to Mexico should be simple and easily understood. The description must also indicate model and serial numbers and they must match the actual items being shipped. Any discrepancies discovered by Mexican Customs will result in the seizure of the entire shipment. Neither CargoLive nor our agent is responsible for the accuracy of the documents prepared by the exhibitor; therefore, we cannot accept any responsibility for seizures that are the result of inaccurate invoices or certificates of origin.
We do not recommend exhibitors hand carry exhibit materials to the show, or ship through courier companies. Mexican customs operate on a random RED LIGHT/GREEN LIGHT system. If you receive a red light your packages will be searched and any items deemed not to be personal effects may be detained. If this happens you will need to enlist the assistance of a Mexican Customs Broker to lodge a formal clearance to obtain release of your goods. This process will prove to be expensive and may take several days to complete.
Mexican customs will not accept the term "No Commercial Value" for any item. For giveaway items, we suggest you use the lowest possible realistic value. For saleable material, your commercial invoice must reflect the price at which you actually plan to sell the item. Once a value is stated on an official document it cannot be changed. Mexican Customs reserves the right to determine commercial value, should they consider the value provided to be false.
Cargo Live, our agents and carriers are not responsible for broken glass, the condition of any perishable goods upon delivery to the show site or any other freight deemed insufficiently packed.
INSURANCE
All exhibitors are encouraged to arrange transit insurance for their properties from point of origin to the show site and back to final destination. CargoLive does not insure your exhibit properties.
PAYMENT TERMS
All inbound charges are due prior to the opening of the show. Outbound handling charges are due in full prior to any goods being released for final destination. CargoLive offers our services subject to our terms, conditions and limits of liability as indicated in our shipping instructions and written statement of terms and conditions which are available upon request. We recommend that you contact us for a firm cost estimate of your anticipated charges.
LIMITS OF LIABILITY
CargoLive liability for loss or damage of materials entrusted to them for shipment is limited to that of the carriers and/or agents employed to provide such services. All work is undertaken at the owner's risk and otherwise in accordance with our terms and conditions, a copy of which is available upon request.
DO YOU NEED MORE INFORMATION?
For information or questions about documents, permits or special process not contained in this package, please feel free to contact us in our Fairs and Exhibitions area.
tradeshowsmx@rockit.global
Ph. +5255 5280 1279
MANAGER, Kim Valdés, kim.valdes@rockitglobal, 52 55 5330 7124
SUPERVISOR, Carloina Díaz, carloina.diaz@rockitglobal, 52 55 4607 9846
COORDINATOR, Cesar Pelcastre, cesar.pelcastre@rockitglobal, 52 55 6352 7903
ON-SITE, Fausto Pelcastre, fausto.pelcastre@rockitglobal, 52 55 2585 1546